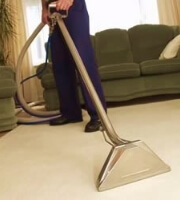 There are a lot of unwanted elements that are spread into the fibers of your carpet. These may include ordinary dust, fur from pets, pieces of food, spilled drinks and many others. Carpets are also breeding grounds for fungi, mold, bacteria and other microorganisms or germs that can cause respiratory problems. Therefore, it is very important to clean thoroughly your carpets. This also helps in extending their lifeline.
We have a team of professionally trained and equipped carpet cleaning technicians who use chemicals that ensure the best results are obtained using the method of steam cleaning. These chemicals cannot affect your health or the environment at your home. This method of carpet cleaning ensures that all stains and removed. Moreover, it is the best method for cleaning carpets with small invisible particles of dust.
Carpet Cleaning in East Finchley
Prices
Hallway carpet

from £

4

Bedroom carpet

from £

23

Living room carpet

from £

25
Minimum call out charge £48.
Sometimes steam cleaning is referred to as 'Hot Water Extraction' but they are all one and the same thing. The method has been in existence for a long time though the steps or stages involved have changed rapidly. Instead of using the same procedure that has been in use for over 20 years, where a cleaner comes to your home and sprays the carpet with water that is mixed with a detergent and then leaves you waiting for the carpet to dry, Cleaners East Finchley uses a more organized and extensive series of steps to perform carpet cleaning.
The following are the 6 steps we follow:
Step 1: The carpet is sprayed with a biodegradable cleaning solution
Step 2: Since the solution softens some of the less tough stains we remove them
Step 3: Remaining stains and spots are treated further
Step 4: Hot water extraction is done using specialized equipment
Step 5: To make sure unwanted elements do not remain, we apply carpet rinse to balance the pH
Step 6: The last step is to apply a deodorizer
In addition to the steam cleaning process, we also include ordinary stain removal as part of the services offered. It is important to note that though the steaming process is certainly going to eliminate a good percentage of the stains, sometimes we may have to use treatments such as Spot dyeing and Heat Transfer methods to completely get rid of all stains. If this is the case, you will be informed and an appropriate quote issued. Some stains are also resistant to these methods and at this point, we render the stain permanent.